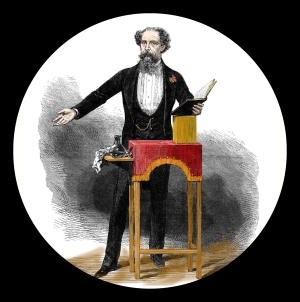 27 November 2022 From The Pickwick Papers:The Shooting Experiences and from Oliver Twist: Mr. Bumble's Courtship
11 & 18 December 2021:The Boots at the Holly-Tree Inn and A Christmas Carol
Lecture and performance Magic Lantern Society Birmingham April 2022
The Dickenstheater Laren presented in Birmingham in April 2022 for The Magic Lantern Society UK, a company of pre-cinema scholars and performers, the results of a year-long research project into the influence of the magic lantern in the works of Charles Dickens. Adrian Kok and Else Flim were able, to the surprise of the audience, to demonstrate, among other things, Dickens' love for the magic lantern and the fact that this medium has influenced his way of looking and writing.
The Dickens Theatre then performed at the Birmingham and Midland Institute theatre, for which Charles Dickens raised money with his first readings in 1853. He was also honoured in Birmingham with an ovation and a grand banquet. In 1869 he was President of this Institute.
In her welcome speech, Else took the audience back to the year 1869. Then Charles Dickens actor Adrian Kok appeared. He gave an impressive reading of, according to the English report, the "hilarious, but near tragic" story: The Skating Experiences from The Pickwick Papers. At the same time Else showed beautiful black and white glass slides via the special magic lantern.
| | |
| --- | --- |
| | Photo's Henk Boelmans Kranenburg |
For all performances click the Playlist 2022 above or the left hand tab.
Click logo:

Dickens in the light of the Magic Lantern
Returning from his very successful 1868 United States reading tour Charles Dickens is back with a new tour. His passion for theatre makes Charles Dickens not just a 'Reader' but an incomparable performer bringing his characters to life. Next to this he gives us sometimes a very personal insight in the origination of his monthly instalments and books and he shares his emotions with regard to some of his characters and even the combination of the plot of some stories compared to events of his own life.
Charles Dickens enjoyed from childhood on the magic lantern and during his life some of his stories were made available for magic lantern performances . a.o. Christmas Carol in 1857. Dickens gave explicit written permission in 1862 to professor J.H. Pepper of the London Royal Polytechnic Institution to create a magic lantern show of the Haunted Man. The optical illusion of a ghost in the Haunted Man is from that moment on copied in theatres, zoo's, museums etc. around the globe and is known as: Peppers' Ghost.
This show is a not just a "Reading" whilst the audience can enjoy original magic lantern slides as well. Being in the audience of the world famous Charles Dickens is a unique opportunity and it will be a memory that lasts for a lifetime.